Booking Form
EVENT:
GRC & Economic Crime (virtual) Conference
Date:
October 17, 2020
Start Time:
End Time:
CPD Time:
Cost:
£450.00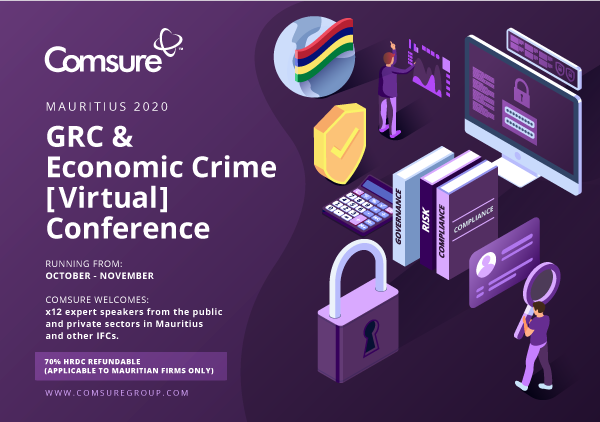 Comsure's Annual Mauritius Conference is back in 2020!
However, in these different times, we have decided to go on-line and have a "virtual conference" with a stellar line up of speakers.
Join over 200 attendees and listen to over 12 speakers from Mauritius, Africa, UK and Europe who will discuss their experience with business risks and challenges and tips in managing financial crime on a worldwide stage.
Dates and times to be confirmed soon - expected to be end of October/Beginning of November
Whether your interest is real-life case studies, the latest technology advancements or what regulators and law enforcement are currently seeing in terms of business risks and financial crime, the Comsure conference will provide you with solutions and inspiration.
70% HRDC REFUNDABLE (APPLICABLE TO MAURITIAN FIRMS ONLY) 
For more information click here.
Pricing for this event is as follows
1 individual - $450
Group fee (2 people) - $800
Corporate fee (5 people) - $1250
Further discounts available for more then 5 people on request
To register your interest press the 'Book Online' button at the top of the page.